When it comes to choosing your perfect poi set up, all the options can become really confusing. We made this informative guide in the hopes of making your decision process easier. Happy reading!
All our poi are measured from tip to tip, including all the elements: knob, tether and ball.
To find your recommended size ("total length" field), lift your arm right in front of you and measure your arm length from the center of your palm to where it meets your chest. This will give your standard poi length. Poi sizes usually vary between 20″ to 24″, but some people like to add a few inches to that size if they want to dive more into contact tricks.
We offer 2 different ball sizes for poi; 90mm and 100mm.
90mm is our most popular option, people tend to prefer it because of its smaller size which is easier to flow with, and its lighter weight which is nicer on the shoulders and isn't as tiring for long flow sessions. [Weight comparison: 90mm = 170g vs 100mm = 210g].
Although if you are into contact tricks, 100 mm balls come in handy as they make rolls easier with their larger surface area and additionnal weight.
Tethers are made of ropes which properties are determined by the way they are braided by the manufacturer, the materials that were used for the core and cover and their diameter. Those elements influence the way the rope reacts and also how supple/stiff they are. Here are our 5 different tether options explained.
Braided MFP rope: Braided over a core, this style of MFP is supple yet stiffer than MFP solid braid or cotton rope, which makes it a really versatile tether. Great option for beginners or people that want to dive into different styles of spinning. MFP will shrink with time, we recommand adding an extra inch to your desired length to compensate. Available in 3/8″ and 1/2″.
MFP "Premium": One of our latest additions, this new type of MFP is braided more tightly and with more strands which makes it more resistant, it will keep its beautiful apparence longer. Available in 3/8″.
Cotton rope: This material is supple, light weight, soft but also has a nice grip. Cotton is a good option for tricks such as air wraps and tangles, but isnt ideal for tosses and juggling. This natural fiber will wear a bit faster than our synthetic options. This rope is pre-shrunk in our workshop to prevent it from shrinking overtime. Available in 5/16″, 3/8″ and 1/2″.
Climbing rope: Because of its large diameter and tight braiding, this style of rope is our stiffer option. Climbing rope naturally tends to keep straight when tossed; some of our options can even stand straight up when balanced. These properties are great for poi juggling and contact tricks; however, you should be aware this rope isn't ideal for tangles. Diameters differ a bit depending of color options: Gold Vein (10.4 mm), Carbon (10.5 mm), Breeze (9.5 mm), Dusk (9.2 mm), Salazar (9.8mm), Royal Purple (10.2 mm), Sulli (9 mm), Pitch Black (7/16″) and Rainbow (7/16″). "Pitch black" is our stiffest option.
VPC rope: This rope is soft and flexible, but also stays straight when tossed; it's simply the best of both worlds. Really popular amongst advanced spinners, this is a perfect rope for techy flow, contact tricks and juggling. VPC will shrink with time, we recommand adding 1.5-2 extra inch to your desired length to compensate. Available in 3/8″ and 7/16″.
We offer 6 different types of knobs; 4 standard options, and 2 LED options.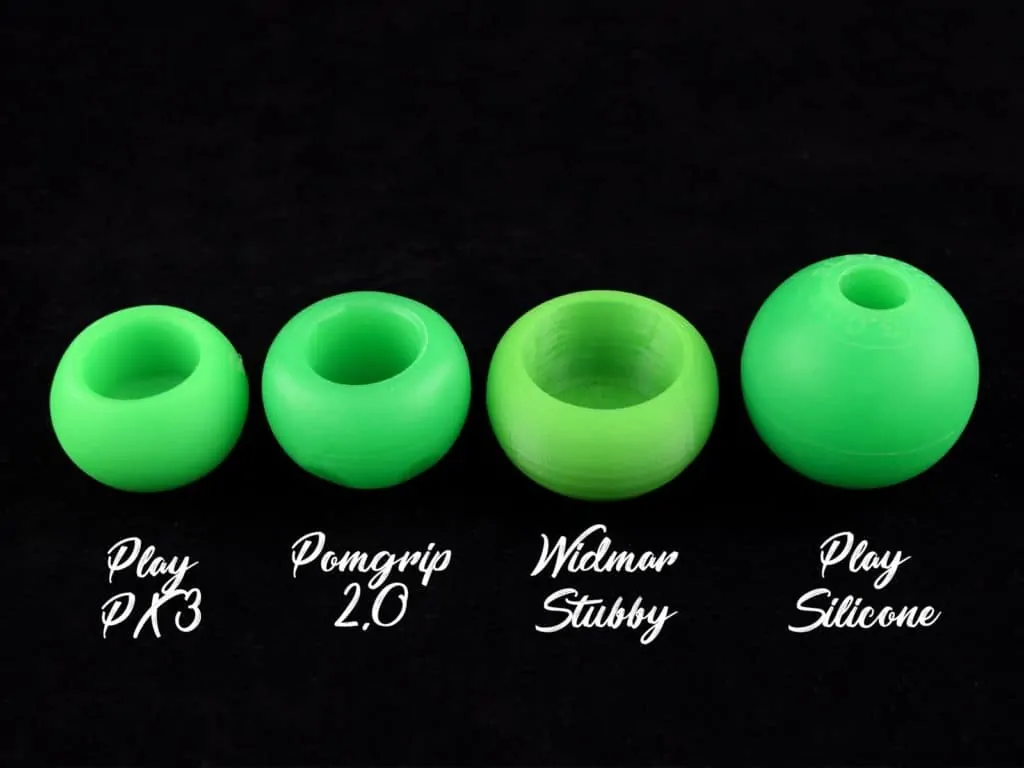 LED options:
"Ultraknob Pro" from Ultrapoi (USA). LED knobs that are also USB rechargeable. Awesome choice to add to any LED or fire poi. Weight: 28g, Widmar version is 18g.
"Capsule handles" from Flowtoys (USA). Weighted 3D printed shells, 2.0 LED capsules with 64 customizable modes, USB rechargeable and update-able. Great for gunslingers, tosses, string manipulation, and highlighting your hands position. Awesome option to complement LED poi and fire poi. Weight:70g